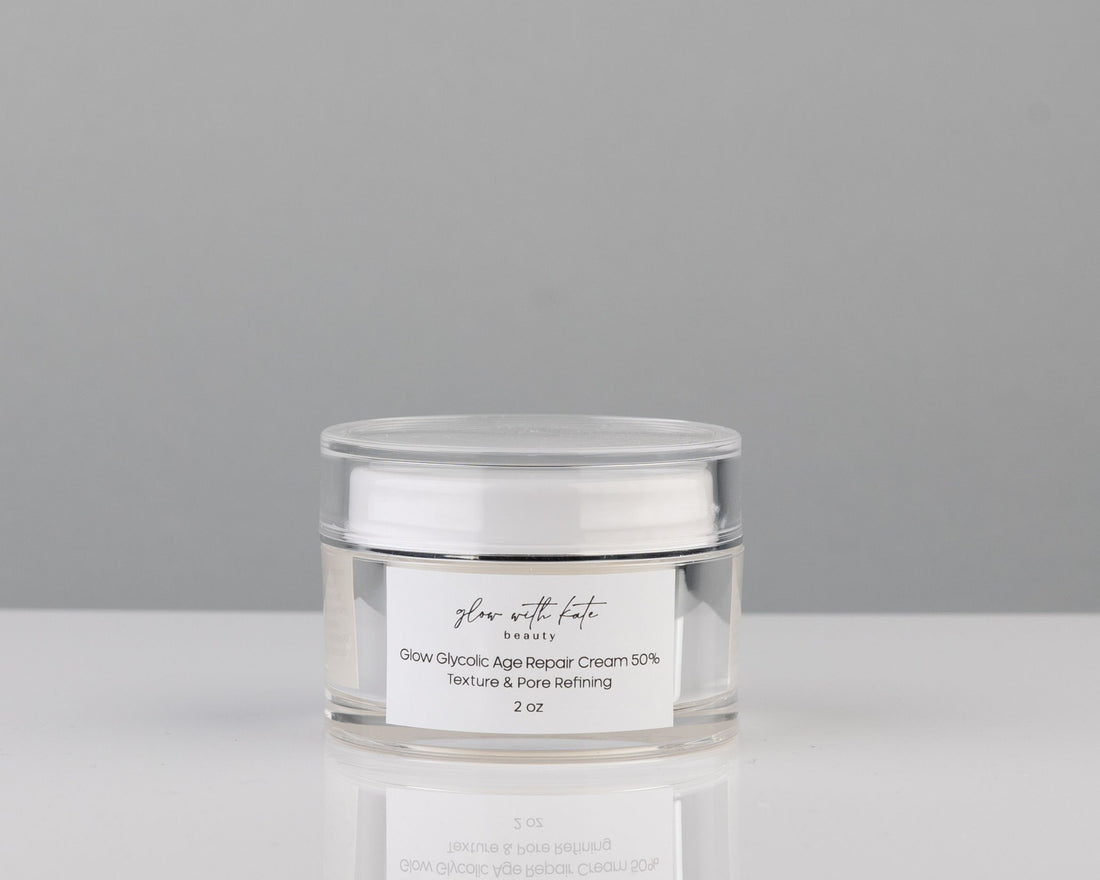 Glow Glycolic Age Repair Cream 50%
Glycolic Cream X-50 is an effective (pH 3.5) restorative, and rectifying treatment with a high content of Glycolic Acid, Sodium Glycolate (15%), and Retinyl Palmitate. It is recommended for all non-sensitive skin types that are beginning to show signs of aging. Repeated use helps reduce the appearance of fine lines and improve skin tone and texture.
Directions: Because excessive drying of the skin may occur, start with one application daily, then gradually increase to two times daily if needed.  
Aloe Vera Gel, Safflower Oil, Glycerin, Glycolic Acid and Sodium Glycolate, Stearic Acid, Cetyl Alcohol, Dimethicone, Arnica Blossoms Extract, Calendula Blossoms Extract, Glucose and Fructose and Sucrose and Urea and
Dextrin and Alanine and Glutamic Acid and Hexyl Nicotinate, Tocopherol, Sodium Alginate, Retinyl Palmitate (Vitamin A), Chamomile Extract, Octyl Methoxycinnamate, Palmitoyl Oligopeptide, Palmitoyl Tetrapeptide-3, Guar Gum, Sodium Hyaluronate, Sodium PCA, Ascorbyl Palmitate, Hydrogen Peroxide, Phenoxyethanol, Potassium Sorbate, Sodium 78 Benzoate.
We offer same day or next day shipping, by USPS. Priority or first class mail. We ship all throughout the continental USA.
To request a return, you can contact us at glowwithkatebeauty@gmail.com within 15 days of purchasing.